Services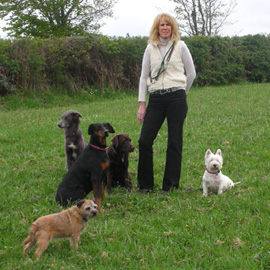 Looking for help training your dog? I offer pain free, hands on dog training / dog behaviour services.
Working with positive reinforcement methods to modify or completely cure any unwanted dog behaviour problems – no problem can be too small as it is often the small problems that if left, can lead on to bigger problems.
After an initial telephone conversation with you, where we will briefly discuss the dog problem you are experiencing. Then depending on the actual dog behaviour problem we will decide whether it would be suitable for me to visit your home or as with certain problems it might be advisable for you and your dog to come to my centre.
Clients initially are with me for 2 hours where I will diagnose the dog behaviour problem, explain why your dog behaves in this manner and then work with you, possibly family members and your dog to change the dog behaviour.
I travel the whole of Devon with my dog behaviour and dog training services at present, but should you be further afield that is not a problem. Working with animals is never a 9-5 job so if a weekend or evening would suit you better then please do not hesitate in giving me a call.
Legal Reports
Assessments of dogs behaviour can be undertaken as evidence in conjunction with their domestic environment and the dog/owner relationship.
Court reports can include the following:
Possible/Probable reasons for dog behaviour.
Risk of dog repeating behaviour.
Assess suitability of residence, land, fencing, and secureness of holding area.