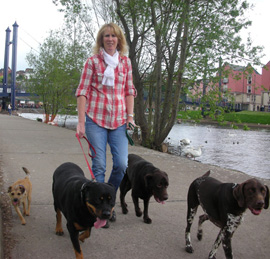 Dog obedience and dog behaviourial problems usually fall into one of the following scenarios:
Dog Aggression
Aggression comes in all shapes and sizes whether it is territorial, dominance-related to – other dogs or owner, fear-induced, possessive, noise-induced or predatory they only have one thing in common and that is they involve some sort of dog aggression. They all differ from each other in their treatment and need to be diagnosed correctly to be treated correctly.
My Dog Is Anxious/Dog Separation Related Problems
Destructiveness, Vocalisation, Defecation and Urination usually performed within minutes of the owner's departure are all common actions of the anxious dog. So we need to restructure the owner/dog relationship.
Dog General Nervousness
Some dogs show fear in all kinds of situations and the owner should never force the dog to confront it's fear or fears but alternatively do as much as possible to reduce the events that cause the fear.
Dog Phobias
Whether it is an extreme irrational fear to an object or situation. Maybe your dog suddenly developed this fear or was he/she born with it.Fortunately it is not necessary to know the precise cause of the phobiato treat it successfully.
Excitable Dog
He/She is four years old now and is still leaping around in the car, excessively barking in the house and jumping all over the visitors! Is he/she ever going to calm down? If we look a little closer you might be inadvertently rewarding the wrong behaviour. Alter the pattern of rewards – change the behaviour!
My Dog Chases
Chasing-dogs all love to do it…… BUT sometimes this instinctive behaviour can get them into "deep water". Especially when around livestock but we have a combination of suggestions that can be put into practice to reduce that thrill.
Why Is My Dog Roaming?
Dogs like to go exploring – ideally with their owner but if he or she is not at hand…. "Oh well off we go"!! The treatment here involves making the dog less independent.
Jumping Up Dog
Dogs jump up as a way of greeting people and saying "hello" to visitors. The key factor to this problem is consistency ….. from everyone….. Dad, Gran, Auntie Sue and all the visitors.
For more information on behavioural issues and conditions Tricia has previously treated please see our Canine Case Studies page.