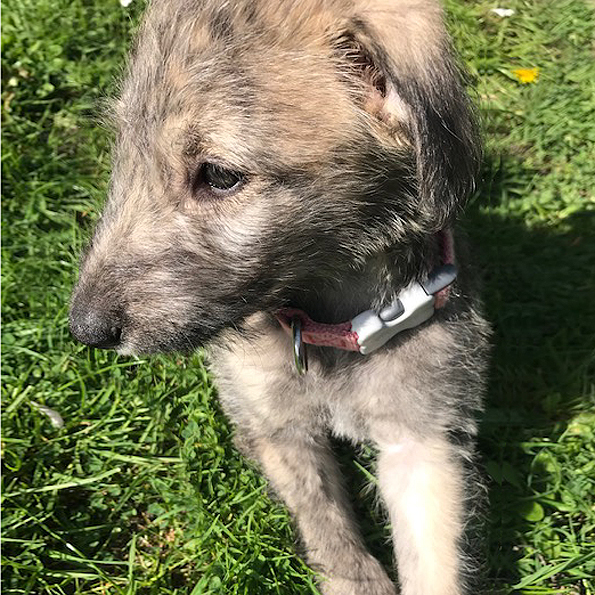 Firstly I would like to welcome Birdie into our clan!!
Birdie is our new puppy. She is a 9 week old Lurcher. Birdie came from a line of Lurcher that I have seen in my training classes over the years. And I've been very impressed with their character, demeanour and high trainability.
So, back in the winter months we took the plunge and put ourselves on a waiting list, hopeful to be able to own one of these Lurchers at some stage in the not too distant future.
And to our delight our new pup now resides with us. Of course back in those winter months, no one would have ever predicted that our world would be thrown into this surreal situation of a global pandemic !!
As a behaviourist I spend a vast proportion of my day chatting to dog owners on the phone about training, problematic behaviour etc and noticed that I was receiving quite a few phone calls from potential new puppy/ dog owners saying they were postponing their new puppy, or puppy search, due to this current Covid19 situation and felt they wouldn't be able to address their puppies needs while their pup was in its critical/ socialisation life stage. ( 3-17 weeks )
So, this is the situation I find myself in now. New 9 weeks old puppy, half way through its critical / socialisation period and what can I do ?
This critical / socialisation period for a puppy is not all about introducing your pup to as many different dogs as possible. It's also about introducing your puppy to as many different sights and sounds and experiences as possible. Although our new pup cannot run free on a walk yet, due to insufficient vaccinations. My husband and I carry our puppy on our daily allocated walk. Our pup gets exposed to many sights and sounds on this walk…..tractors,cows, sheep, quad bikes with farm dogs running along side ..
All very ' scary stuff' to a new puppy .
Our puppy has gone from trembling in our arms, to being very intrigued to what she's being exposed to.
We also have the 'car journey'….although this is only happening once a week at the moment due to travel restrictions, our pup is coming on the supermarket trip.
While one of us is dutifully shopping, the other is minding the pup in the car. Dogs that don't travel well in cars later on in life, are only dogs that weren't de-sensitised to cars and travel enough as a puppy.
And finally we have ' eaving your puppy on its own'. A very important 'window' to be addressed. Separation Anxiety problems are a very common angst with dog owners.
And the problem nearly always comes back to the same answer… the puppy wasn't trained to be left on its own for a short time when it was young. With this being the case we make sure we leave our pup for a short time everyday.
Even though we would prefer to take her out with us while we are gardening or sat in the patio reading a magazine. It's very important they are not with you all the time.
Are there enough things to be doing with your new puppy in this present global situation? Answer……yes plenty!!