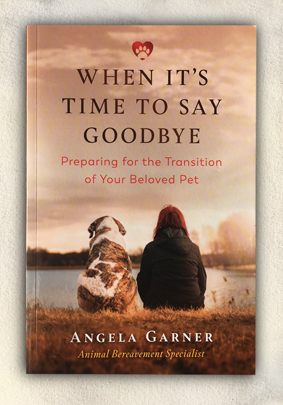 In previous blogs I have often written about dog bereavement.
Touching on the facts of such matters as getting another puppy after the loss of your dear family four legged friend that can help heal wounds in these early days/months.
Up until now I was unaware that there was also help 'out there', preparing yourself for the transition of losing your beloved pet, coupled with helping and guiding you through the grieving process.
While recently out on my daily behavioural home visits, I had the pleasure of meeting the author Angela Garner who is an Animal Bereavement Specialist.
Angela has written a beautiful and poignant book guiding pet owners through the sad loss of their family pet.
It touches in depth, on many subjects from:
Preparing for pet loss.
Coping with grief after loss.
Taking care of yourself during the grieving process.
Opening your heart and home to another pet.
This book is truly is a 'must read' for any pet owner . . . . . .
When It Is Time To Say Goodbye