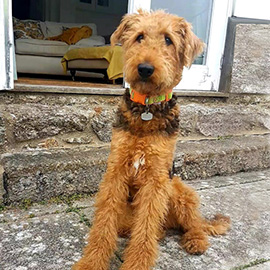 Gill and Richard weren't novices to owning Airedales. They had owned many over the years and were also involved with the rehoming of this lovely breed of dog. But Doris was proving to be a bit of a challenge and they contacted me wanting some help.
Doris had a poor recall as well as being excitable around livestock….. Not a good combination ! Coupled with a lot of hand mouthing.
We met up and revisited a few basic commands…..Doris was actually very well trained and flourished very quickly on what we taught her.
We addressed some livestock training, which is essential when living on the edge of the moor and also found a recall strategy that suited Doris very well.
I have recently received an email from Gill and Richard with their progress on Doris and this is their update…..
"Hi Tricia. Just to let you know how we are getting on after your training session with us. Wow, she is a different dog, really happy with her progress. We are able to walk her off lead and her recall is perfect. I had her off the lead yesterday and met a rider, Doris was not interested in the horse at all.

Thank you so much Tricia, I have given your name to a few people now who after seeing Doris's progress are very interested in your services. Best Wishes Gill."