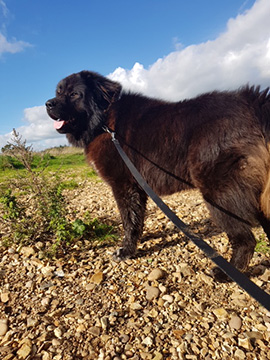 When you are the owner of a extra large breed, it's very important to make sure you have them trained and properly under control at all times. Training reduces the chances of any aggressive behaviour arising.
I recently had the pleasure of meeting Zeus……and in a lifetime of meeting dogs, this has to be the largest dog I've ever met!!
Zeus is a Caucasian Mountain dog, 15 months old and starting to growl a bit at certain family members and bully the cat.
Caucasion Mountain dogs are a very huge breed with immense strength.
Bred for guarding large flocks of sheep on the mountains of Georgia..their home country. And when fully grown can weigh in at 100 kg.
So, with all this in mind….. It was certainly time for some training to begin with Zeus and I went along to Kelly's home to take a look at the situation.
Zeus was rather aloof when I arrived, choosing to lay out in the garden, so we coaxed him in and started working our way through some of the struggles they were experiencing with him.
The growling had to stop and the bullying of the cat had to be addressed immediately, as this behaviour was not acceptable from a 80kg dog.
Zeus was calm and well mannered throughout our training session and took on board everything that was asked of him. I made lots of suggestions and taught them some very valuable techniques.
As always I ask clients for an update and this is what Kelly emailed to me recently.
Hi Tricia.
I thought I would give you an update on Zeus, as it's been about 6 weeks since we saw you.
The command you taught us has been working great. It has also helped with the cat to some extent. He seems more hell bent on standing over her and licking her, than showing aggression. She doesn't enjoy it much, but I do feel much happier that he isn't going to hurt her.
He is certainly better when out on walks and doesn't pull quite so much when he sees another dog.
He also sleeps inside every night now and spends more time with the family in the day, so our bond is increasing significantly .
Thank you for your time last month.
Kelly.