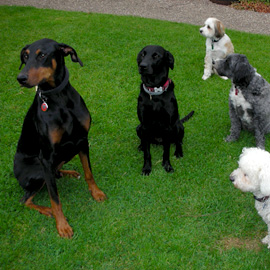 also have a look at: Indi
Fiona contacted me regarding her young Doberman Archie, who initially Fiona and her husband had been fostering from a rescue centre pending a cruelty case. They had decided to keep him now as they had owned Dobermans before and were quite experienced in the breed. Only now Archie was proving to be a bit of a challenge! I am not going to elaborate too much on this case, all I will say is that it was very rewarding and I think the testimonial speaks for itself.
We struggled with Archie for 10 months, we religiously took him to training classes and out for walks but as soon as he saw another dog he became anxious, very noisy and would spin round and round on his lead. He would also try to bite through his lead to get free so he could go to the other dogs, we couldn't take the risk that when he was in in that highly emotional state he wouldn't attack the other dogs if he did break away and we were always asked to go to the other end of the field away from the other dogs in the class and consequently did not make much progress or find ways of helping Archie cope. In addition to feeling like failures as owners, he by now had become a strong dog and my arms would be sore and aching from trying to restrain his lunging and pulling on the other lend of the lead.

We hit a real low point with him in August 2011 after a particularly challenging walk with him when he went berserk after seeing another dog, I spent the whole walk crying and wondering what on earth we were going to do, something however prompted me to try to find out if there were any trainers in Devon with experience of handling dogs particularly Dobermans with issues. When I got home I did an internet search and up popped Tricia, I couldn't believe my luck, I got in contact and Tricia arranged to see Archie the following weekend.

With some trepidation we took him to Tricia's home near Exeter and once Tricia had spent a few minutes with him quietly assessing him he was introduced one by one to her other dogs. At this point Archie immediately went into his highly emotional, over excited and neurotic state that we had told her about but Tricia wasn't phased by his behaviour and got him back to a relatively more settled state using a mixture of firmness and calm assertive energy.. Just to be on the safe side, Tricia put a muzzle on him, he was then allowed to meet the other dogs and much to my surprise and consternation we then all set off for a walk. My anxiety about this soon proved unwarranted, Tricia had Archie on the lead but it soon became apparent that he was not showing any aggression, only exuberance because the other dogs accepted him and Tricia let him run free with the other dogs and without the muzzle. We haven't looked back since, it was nothing short of a miracle in our eyes, it renewed our confidence in ourselves and helped us move from seeing Archie as this problem dog that we loved but who caused us despair to being proud of him and being able to enjoy his exuberant, playful, extremely affectionate and and happy character.

Archie has been to Tricia's training classes for most of the last 12 months and while still a challenge and definitely the noisiest pupil as well as the most amusing, he has turned into a dog that I can take for walks anywhere. His meet and greet with other dogs is excellent, admittedly better better off the lead, and he plays happily with all those dogs who want to play and will walk away from those that don't. This September, 12 months on from meeting Tricia, Archie went to stay with her while we were away on holiday and was an exemplary house guest, he didn't chew anything (apart from the chicken leg he pinched from an oven tray) and got on with all the other dogs staying at the same time.

This transformation from a very confused, damaged and emotionally hyper dog who had had a terrible start in life to a bouncing and bonny Dobie we are now proud of is due to Tricia and her ability to intuit and understand the root of the problems that were causing his behaviour and then put in place the strategies and training needed to help Archie find a new settled and confident way of being. Tricia's calm assertive leadership has not only helped Archie, it has helped me as a person too. Tricia is a truly inspirational trainer and I cannot recommend her enough.