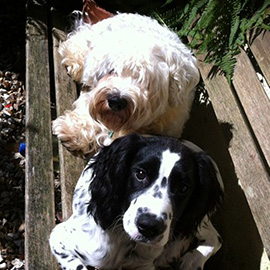 Sibling and Pack rivalry can be a very serious problem. It can often seem that the initial fight between the dogs started for no reason at all. But when I carry out my home visit with the owner and their dog/ dogs and we sit down and talk through the sequence of events leading up to the fight 9/10 times there will be a trigger.
With this type of problem one of the most important factors is getting the pack back together ….reunited. Something that the owner will be very reluctant to do, in fear of the fight restarting again.
This was the situation when Paul rang me one weekend. His Sealyham Terrier Jack and Sprocker Sherlock had had a very ferocious fight. Resulting in Paul having to pop one in the kitchen and one in the bathroom and alternating them throughout the day.
Paul informed me that he had been stuck in the situation for nearly a week now and I admit that alarm bells started ringing in my head, due to the time scale these dogs had been apart and the feelings/ energy that would have set in between them.
Anyway , always up for a challenge I arranged to have a meeting with Paul very quickly.
As I said …..time is very important with this scenario .!!
This was not a easy situation, the dogs had seriously ' fallen out ' and Paul had been poorly advised. While they were outside being exercised, they were happy to tolerate each other . But once they returned to the house….it was like waiting for a time bomb to explode….which it did within 10 minutes of returning home.
Paul loved his dogs and the thought of giving one up was unbearable , as it would be for any dog owner.
So, we set up a plan that we discussed thoroughly . Every fine detail had to be understood. There was no room for failure.
I am very proud of Paul. This was not a easy situation and we kept in contact every day in the early stages….but we are now 3 months on and to receive this update from him is very rewarding.
I found Tricia via a personal recommendation from a neighbour. The previous Behaviourist had helped, but hadn't provided a workable solution…..complete separation for 6 weeks. When you arrived, I felt you had a similar attitude to the dogs as I did. And I had confidence that you could help…..which you did, in a practical and appropriate way. Thank you.