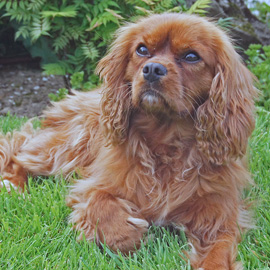 also have a look at Ruby
Alan and Anne had been recommended to give me a ring through a mutual friend regarding the behaviour of their Cavalier King Charles Rufus who was 4 years old . Alan and Anne had owned many Cavalier King Charles Spaniels over the years, but Rufus was proving to be a bit if a challenge!!
They had owned Rufus for 2 years, as he had initially come from a Rescue a Centre, but because he seemed to have NO recall what so ever, and Alan and Anne lived on the edge of Dartmoor , which means that they are regular moorland walkers ,they had to have a dog that was steady around sheep. Rufus unfortunately didn't tick any of these boxes and hence now had now been walked on the lead for the last year…..so they just couldn't risk it. As Anne said..,' he just gets onto a scent and goes'.
I always say…' Set yourself up to succeed, rather than fail'. So Alan and Anne came over to my fields, which are fairly secure so we could take a good look at Rufus and his running pattern. We tried various training techniques and l talked them through/ explained and demonstrated how I would move forward now with Rufus and his training. After all Rufus was a relatively young dog and Alan and Anne lived in an area where walking your dog off lead is the whole purpose of going out for a walk.
I have recently had an update from Alan and Anne and I'm very pleased to report that walks with Rufus are going extremely well!! This is what they had to say…
Rufus's progress is quite amazing – much better than we could have hoped! He's loving his new sense of freedom, responding most times within 2 calls of 'Rufus come'. Your system has given us the break through we dreamed of but could not see how to get there….quite incredible.

Anyway, just to let you know that we are very grateful for you setting us on the right road. Rufus is loving this new chapter in his life and the other three of us are also very happy.

Thank you so much and we will keep in touch.