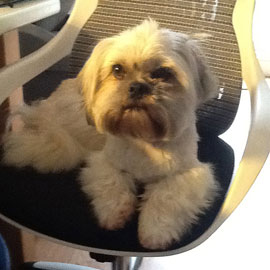 If there had to be a Case Study of the year….this would probably have to be the one. A lot of blood, sweat and tears went into this one, but I will keep on track and keep the story short.
Purdy is a 4 year old Shih tzu and his owner Iain contacted me due to this new behaviour that Purdy had developed of barking all night long!!!!
Iain had sought advice from various sources and had been told the problem was Separation Anxiety..but to be honest l was not convinced!!
I went along to Iain's house to take a look at the problem and put a plan together so Iain and wife Sarah could get their nighttime sleep back because they also had a toddler to think about.
I followed up with a phone call to see how things were going a couple weeks later, but….despair !! My suggestions, advice and plan had worked for a couple of nights, but now they were back to square one…Purdy was barking so much so that Iain was having to sleep downstairs with him so the rest of the family could get some peace and quiet and get some sleep.
It really was looking as if re homing was the only option for Purdy because as a family they just could not go on like this, they had only just their little toddler to sleep through the night and they were now being woke up by the dog.( Purdy).
I had a nagging feeling that someone (me included) had missed a trick here, so I asked Iain if he would mind if Purdy came and stayed in our house for a few days…he was a little hesitant and rightly so, plus his wife and son were going away for a few days and Iain thought that while there was only himself at the house he might try the cotton wool in the ears tactic and see if Purdy might burn himself out,give in and go to sleep.
No such luck…he phoned me the next morning to say he had no sleep that night and how soon could he bring Purdy over to me.
Well Purdy arrived and joined our family and we all decided that we should have an early night…because it might have turned out to be a long one!!
Sure enough, true to form after only 10 minutes upstairs in bed the barking started and he barked and he barked… As l said at the beginning of this case study…a lot of blood, sweat and tears went into this one, well not so much blood and tears, but I had been churning this one over and over in my head and had come up with a plan, which l put into action after the 10 minutes of barking.
This wasn't the best night's sleep as l was up and down the stairs a few times but I knew I was on the right track to Purdys barking behaviour and there was no going back now. The second night I heard him bark once, the third night all quiet and the rest is history!!.
Iain has very kindly given me this update….
We have a 4 year old Shih tzu called Purdy who after a perfect start developed a barking condition that kept the household awake at night for several weeks.
After a short stay with Tricia the barking was cured and we now have our old dog back!!
Thanks to Tricia and her hard work and support .
We would fully recommend her services to all.