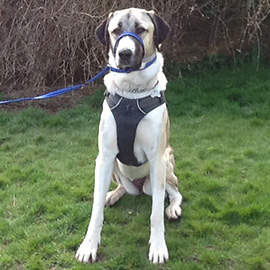 Well, this was a new one on me!! And when Caroline contacted me explaining the behaviour her Anatolian Shepherd dog was displaying I had to quickly do a bit of research into the breed to get a better insight into their characteristics.
I very quickly established that they were a very big, headstrong breed of dog. Originating from Turkey . Originally breed for guarding sheep and killing wolves….. WOLVES!! Anyway, that was thousands of years ago!! Let's just meet her.
And this is what we did. I met up with Caroline and the beautiful Anatolian Shepherd dog Anna. First impression….a very powerful dog that if not trained probably could become not only a handful, but could cause a lot of stress. It would seem that Anna hadn't had much training, so we prioritised what was of most importance to Caroline, and this really had to be the fact that Anna was starting to react to oncoming dogs in a rather intimating manner, making it very difficult for Caroline to control her.
We introduced Anna to my dog and quickly established that if Anna was introduced ' the correct' way, she actually reverted back to being very puppy like and had some very nice manners. Caroline continued on with the plan I set up for her and also attended my weekly training classes , just to keep the continuity going. It has been lovely to watch this dog just flourish in the weekly classes and probably unbeknown to Caroline, Anna has been the envy of most of the other owners in the class.!!
It's been a real pleasure to have Anna in the hall.
"I would like to Thank Tricia for teaching me how to handle Anna. Anna is an Anatolian Shepherd, very strong but is a wonderful dog, big, and very lovable as well as being beautiful in our eyes at least. We got Anna when she was eight months old and all was well until she was a year old, when she became aggressive to other dogs, but at the same time wagging her tail. It couldn't continue as she is so strong and large.

We used a collar and lead but had to buy a head collar which made her much easier to handle. I contacted Tricia and booked a 2hr one to one lesson, after talking to her and letting Anna settle around her, Tricia taught me a couple of words and used them on Anna when she introduced her to Tricia s dogs.

By the end of the 2hr lesson I could walk Anna by the other dogs without the aggression, she was then let loose to play freely with them on the lawn .The reason she was behaving in this way according to Tricia, was that she was a puppy going into adolescent age. I now have full confidence when out walking Anne so much so that my father who is blind can handle her himself when out walking with me at his side.

The 2 words that Tricia has taught us to use, has changed Anna's behaviour completely as we use them for pretty much everything. I have continued to attend lessons with Tricia to keep Anna socialised with the other dogs in the class. Thanks to Tricia we now have a dog that is obedient and an owner who feels in control.

Thank you Caroline Ware."