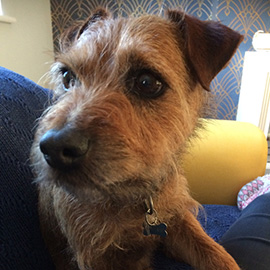 Hayley contacted me after having a rather unpleasant ' run in' with another dog and his owner and her little Border Terrier x Lakeland …Stanley.
This is a very common scenario for dog owners. And one that can leave you feeling very despondent once you get home from your walk. Not knowing what to do or where to go from the incident.
I met up with Hayley and Stanley and we went through the sequence of events of that day.
Firstly I gave Hayley an understanding of how and why this behaviour was happening and secondly practiced a plan/ technique to stop a subsequent situation ever happening again.
Stanley seemed to take on board the new plan very easily and Hayley seemed happy to continue on with what I had taught her. It was lovely to receive this update from her, letting me know how things were progressing:
Dear Tricia
We came to see you over a year ago with our Border Terrier X Lakeland . He had been scrapping with other dogs when out walking and I had had a particular unpleasant run in with another dog walker/ owner.
Not only did you put my mind at rest that Stan was not a huge concern, but you taught us a technique to control the situation .
This has helped us a lot. And he has improved to the point that I rarely have to implement this technique now!!
Thank you very much for all your help.