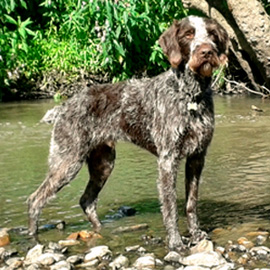 Ruth emailed me regarding her German Wired Haired Pointer – Denbeigh. Ruth had owned him since he was a 9 week old puppy and had been to countless training classes/ sessions , some general, others specialised, but she felt she had never really got on top of Denbeighs behaviour of wanting to chase cats and his problematic behaviour of getting very wound up when he was on the lead and spotted another dog on the lead , which occasionally in life has to be!!
Ruth and I fixed up a mutually agreeable day/ time and met up with Denbeigh and some of my gang!! It very quickly became apparent the behaviour Ruth had described to me in her email when Denbeigh saw one of my dogs…..he howled and wailed to get to them, if they were close to him he lunged coupled with deep barking. We then took Denbeigh to meet our cat, although apparently he wasn't too bad at this particular cat meeting, Ruth did say that on previous occasions not only does Denbeigh howl, wail, lunge, back up, jumps at her, grabs the lead, and has now started grabbing her arm/ hand….ouch!!
Ruth and I worked on Denbeigh, as usual l thoroughly explained to Ruth what was driving this sort of behaviour and showed her how to correct it. It was clear that Denbeigh had done a lot of previous training, he was actually very well mannered, but there were just these few areas in his training that had gone adrift. When Ruth was completely happy and confident that she understood the new training plan we had set up for Denbeigh she went away to continue the good work.
This is the latest update I received from Ruth……:
Hi Tricia….regarding the issue I came to see you about- dogs on lead and cats-
I think we have turned a corner.
I've only had to instruct Denny 4 times and he now backs off cats immediately.
Most importantly he responds to my command super fast now.
What's more, I stay relaxed when he is on ' high alert' now I know that I don't need to calm him down to anything, because he's actually having fun rather than being stressed.
So many thanks Tricia for all your very useful and practical advice, and for helping me get to know Denny a little better, I think we are both both happier as a result( and the neighbours cats definitely are!!!)