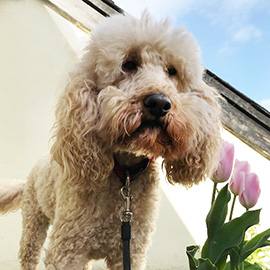 'Seeing off behaviour ' can be a very common behavioural trait with dogs, and a trait that a lot of dog owners feel they have to live with …..but this is simply does not have to be the case.
Carole the owner of Frankie a 5 year old Poodle X liked to walk her dog along the river/ Quay side and possibly stop at a cafe and have a coffee with her dog. But Frankie had other intentions!!! One minute she would be sat nicely beside her owner…..the next, barking and lunging at someone entering the cafe with their dog.
Of course this is not relaxing for a dog owner and very quickly you make the decision to finish your cuppa and leave.
After Carole contacted me, we met up for a training session at a location where Carole felt we were most likely to witness the behaviour. Frankie was very true to form !! And promptly displayed this behaviour.
We discussed and practiced a few techniques, but settled on one plan in particular.
Carole recently, very kindly sent me this email with an update.
I had just one problem with my dog, 'Frankie'. When I was sitting in a pub or cafe, or even on a bench in the park, Frankie would try to defend 'our' space by behaving aggressively towards other dogs who came near. It did not always happen but because I never knew when she might behave this way, I could never relax in that situation. The same thing would happen occasionally on the lead when passing other dogs in the street. Knowing of Tricia's expertise, I asked for help. Tricia suggested a training technique ….and….brilliant!!

It is not 100 percent effective for Frankie – there is still one dog in particular that we meet in the street and Frankie still barks and snarls. But 99 percent of the time it does, and I can now relax when socialising in a pub or cafe.

What a relief! Thank you Tricia!