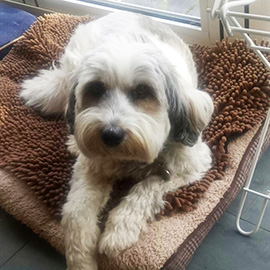 As Tibetan Terriers were originally bred for guarding the monks in Tibet, they are never going to be the quietest of breeds!! But when you get to the stage that you can not even have your dog out in the garden with you, while doing a bit of gardening. Or maybe sat out in the evening trying to have a relaxing drink…..something has to change. And this is the stage Beth was at with her 7 year old Tibetan Terrier Molly.
I drove out to Beths home and she explained to me how she was a very keen gardener and would love nothing more to have Molly out with her, but because of her continual barking Molly had to stay behind indoors , which saddened Beth. But it was this ,or upsetting the neighbours.
Coupled with this barking, on the odd occasion Molly was out in the garden on her own , she would ignore Beths instruction to come in. Resulting in Beth having to physically going and getting her.
We made a lot of headway with this training session and Molly.
Beth was very receptive to some new training ideas and Molly was an extremely intelligent Tibetan Terrier. And as always, it's nice to receive a follow up email on how things are progressing.
It's been a few days since we saw you last Thursday so thought you may like an update. We started the revised training plan the very next day, Friday. We took Daisy down to our local playing /dog field which is cert

Thank you for your help with Molly. It is now a pleasure to be in the garden with her. I think she now understands its not what l, or the neighbours want to hear!! The recall tactic you showed me is brilliant. Thank you for your advice and support . Beth