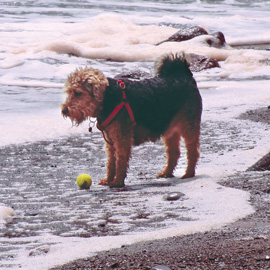 Christine phoned me regarding her lovely little Welsh Terrier Stanley..who apparently wasn't being so lovely to other people!!
Christine had owned him since he was a puppy, and he was now 2years old, and she was having more and more incidents of Stanley showing aggression towards other people.The most recent being when her daughter Ella came home to stay for the weekend, she stood up to say goodnight to her mum at the end of the evening before going upstairs and Stanley lunged at Ella in an aggressive manner.
This coupled with an incident at a local pub where Christine was trying to have some lunch in the garden after a nice walk with Stanley, and he insisted on barking and growling at people passing the table, Stanley was causing such a commotion that Christine had to leave because of his behaviour.
I went along to Christine's home and of course Stanley was on his best behaviour….some one must have given him a tip off I was coming round!! Luckily I had seen this behaviour many times before and we were able to rein act the scenarios and I was able to advise and put together a plan of action for Christine, as well as a little bit of training homework.
Christine very kindly gave me an update recently and this is what she had to say… Her email heading was STANLEY THE NEW MAN!!!!
Thank you so much for coming to see us on Thursday, I felt so much more positive and confident following your visit. We have stuck to rules, done our homework and I can tell you that I can already see an improvement, even within 48 hours!!

We are sticking rigidly to all the new rules and l am looking forward to showing off this well behaved and happy little chap to my family soon, I will send you another update in a couple of weeks….

2 weeks later….things are going really well with Stanley, we returned to the scene of the crime ( the pub) and all was well. And reporting in a post visit from my daughter that Stanley had been naughty with….he is a completely reformed character, thank goodness . Ella couldn't believe how well behaved he is these days. Today he went for his summer grooming and the groomer said that she didn't know what I was doing, but that Id got it right because he was such a very good boy for her, no feisty ness at all.

Phew phew phew all round and thank you so much for getting us on track with this.

Best wishes and thank you again for being so brilliant with us.