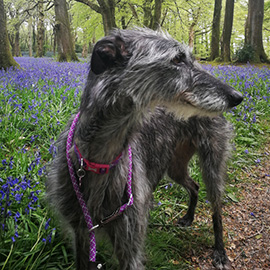 Georgina contacted me regarding some behavioural problems she was having with her newly adopted 5 year old Deerhound x Lurcher….Juliet. Georgina and her family had only owned Juliet 5 weeks , but she had settled into their family routine beautifully . Integrating with the family in a calm/ relaxed manner . Sleeping downstairs in the kitchen in her own bed etc etc. Now all of a sudden Juliet didn't want to stay in the kitchen at night!! She would bark and whine. And jump up on the kitchen units, knocking things off onto the floor . Coupled with often defecating on the kitchen floor. There were also some behavioural concerns with Juliet when passing other dogs when she was out on her daily walks….. Juliette would bark and show aggressive tendencies and this was becoming a bit of a worry to Georgina.
We set up an appointment and I took a drive out to Georgina's home to meet the family and Juliet. This was quite an unusual case as there were 2 main behavioural problems going on here ,and it would seem they were ' polar opposites' in that one would seem it was driven by anxiety and the other by assertiveness. But knowing this breed very well, I had a hunch that they just could be connected.
And we worked on a plan to get Juliet more settled in the house at night and calmer/ politer when passing other dogs when being walked around their village. Georgina recently sent me an update on how things were progressing and I was delighted to read that Juliet was back sleeping in the kitchen at night and actually making some friends with some dogs in their village !!
After adopting our beautiful Deerhound x Lurcher Juliet and running into a few anxiety issues. We wanted to do the best we possibly could for Juliet, so she had the chance to be the best she could be.

After chatting to another dog owner that had recently used Tricia s services and highly recommended her, we got in touch. When Tricia came to our house to meet us all we instantly knew we were in good hands. After sticking to Tricia's plan, Juliet is blossoming into a beautiful girl and now has the confidence in us to put in the boundaries that she needs so she can relax and get on with being the special companion she is.

Thank you Tricia for supporting us through Juliet s transition from abandoned rescue home to forever home.