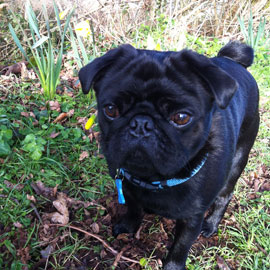 Richard and Sandra contacted me one weekend as they were getting very concerned about their 18month old Pug Monty, they were not novices to this breed having owned one before, but Monty's behaviour of barking in an aggressive manner at people in the town when they bent down to give him a stroke was starting to cause a bit of concern to them. Monty seemed to be happy when he was being stroked, but the minute the person took their hand away and went to move off, he seemed to have a bit of a personality change and barked in quite an assertive manner. As well as this problem Monty was also becoming a bit of a nuisance when the phone or door bell rang, barking so much that his owners could barely hear themselves think…let alone speak to who ever was on the phone!! And thirdly Monty seemed to be seeing off Richard every time he went to get up from the table and leave the room. A home visit was definitely in need here so we agreed a suitable day and time for us to meet up and along I went to meet Monty and his owners.
The behaviour Richard and Sandra had mentioned became apparent the minute I stepped through their doorway , Monty was not at all happy at me being present in the house, he was a little happier when I sat down and did not move, but the minute I stood up he became agitated again. Richard and Sandra showed me Monty's behaviour when the phone and door bell rang. And Monty's behaviour towards Richard when he left the room. We worked through each situation slowly, but methodically making sure Richard and Sandra had a good understanding of why Monty behaved in this way and how to correct it. And as always I wrote up a full report afterwards for them to follow with step by step instructions.
This is the update I received from Richard and Sandra:
Thanks so much for your detailed report which we have been following to the letter.
Well, it's nothing short of miraculous!!! I will list our progress…

Doorbell and phone ringing….As you suggested I allow one bark or so and then give some instruction if he looks as though he is going to carry on. But in relation to the phone, he does not bark at all, nor when I say " hello" in a bright voice (which used to set him off). He has a greater tendency to bark when the door bell rings,but he stops when I put in some instruction and he does not dash ahead of me to the door…in fact he hangs back and watches me quietly.

Richard leaving…..That has stopped completely, and he lets Richard go from room to room or out of the house without barking.

Meeting/ leaving strangers…..This is the greatest challenge. We have stopped to talk to strangers about 3 times since you came to see us and each time he has been nothing short of brilliant. I watch him carefully for signs that he is about to bark, but he did it only once and stopped immediately on my instruction. He is still a little shy here and we do have a bit more work to do.

In all it has been completely amazing, I will keep following exactly what you advise.
Thanks so much for all your help with Monty . Richard and I are immensely grateful, and Monty already seems far more relaxed but confident too. Once you had explained what was causing his reactions, it all seemed to make sense, but gave us the confidence to put your advice into practice.