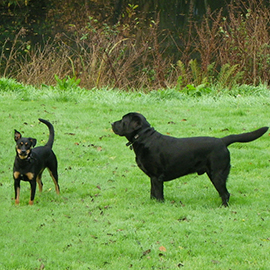 Sue emailed me regarding some problems she was having with her 10 month old Rottweiler cross….Josie. Josie was a rescue dog and Sue had owned her for 5 months. It would seem that Josie showed aggressive behaviour towards people and other dogs on the lead, so much so, that Sue had been asked at her local dog training weekly class if she could contact a behaviourist to get this sorted.
Other problems included ….very strong on the lead and poor recall.
Sue, Josie and myself met up and it quickly became apparent that what Sue owned here was not an aggressive dog , but a very strong, lively young assertive dog that needed more of a formal type training. Josie was not wearing the correct collar and this coupled with owning another large dog that had no problems what so ever, made Josie look a bit of a nightmare!!
We went over some basic training commands with Josie , putting down some new rules and just really understanding what sort of dog Sue owned here. We also went for a long walk and practiced calling Josie to us every so often , something that Sue admitted would have had her feeling very nervous.
Josie responded very well to everything that was asked of her….it was now time for Sue to continue with the training plan. Sue emailed me recently and this is what she had to say
Josie has been very good, running in the woods and coming back when called. And very good paying with a few dogs we've met along the way. We still attend our Thursday dog training club and have been praised on how well she now behaves!! Thank you for your help and I'm sure Josie and I will keep improving.