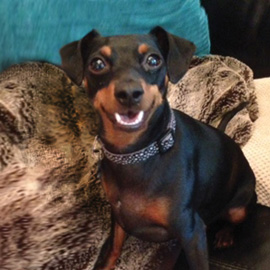 also have a look at: Reuben
Kirsty contacted me with great concerns about her 3 year old Miniature Pinscher Henry….the little dog with the big personality!!
Kirsty had owned Henry since he was 7months old and she reported that initially he had been such a nervous dog, with very little socialisation to anything. And it seems that they had put in a lot of hard work to make up for this loss time in a very important life stage. But now Henry had gone into a completely different character change and was now acting aggressively towards other dogs on the beach near their home in Exmouth, as well as not letting visitors into their home, and apparently on one occasion Henry had managed to intimate one of her visitors so much he had the poor lady pinned against the wall with his barking and growling that she was enable to move!!
I took a drive down to Exmouth to meet Henry in their home, Kirsty was feeling very nervous because Henry had just recently bitten someone, even though Kirsty had told them not to try and pick him up!!
The reception l received on the door step was quite something, these little dogs might be small, but they certainly look the part when they are barking, lunging and snapping at your ankles. Because of the noise level I very quickly took control of the situation and sat down with Kirsty and explained what was going on here, past and present. We then discussed a plan which we duly practiced several times to make sure Kirsty really knew the timings and consistency of this plan….very important ingredients to any training. It was fingers crossed as I left that Kirsty was going to be able to follow this through.
To my delight I received an update soon afterwards and this is what she had to say ….
Hi Tricia….I thought I'd just let you know how happy we are with the way things are going with Henry !!
I can not thank you enough for the help and advise you have given us.
It is now more enjoyable inviting friends around and they cannot believe the difference in him too.
Thanks again Kirsty and Craig.