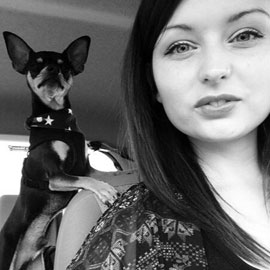 also have a look at: Henry
Lianna emailed me regarding her 10 month old Miniature Pinscher.. Reuben. In this email Lianna tells me that her dog Reuben lunges and barks at other dogs, so much so that if she lets him off the lead he chases after them barking.
He barks at people too and this is becoming a real issue as she is a very active person and loves taking her dogs for a walk ( she also owns another Min Pin who is perfect) But has to minimise it as he hates going for walks. Hates dogs, people sat down at a bus stop, loud noises , anything whilst he's on a lead and he drags his legs behind her to make her stop or barks and barks. He also recently started lunging at her other dog when he was on the bed and Lianna thinks her other dog Prada seems very defeated since she got him, not as playful and just sits out of his way all day. Lianna can't tell whether she is chilled or upset .
I contacted Lianna immediately because this sounded a bit of a sad scenario and she needed help ASAP . We met up and Reuben displayed his unwanted behaviour within seconds, ironically i used to work for a show kennels with about 40 Min Pins…so had rather a lot of experience with this little breed of dog with the huge personality!! We practiced some technique s with Reuben, introduced him to various other dogs and explained to Lianna the pros and cons of owning a pack!! Reuben actually took on board the new training very quickly and calmed down almost immediately.
Lianna emailed me a progress report a couple of months later…this is what she had to say:
I first came to Tricia Wills because my Min Pin Reuben was barking, I assumed due to nervousness. I was trying to treat him to distract him from other dogs. Tricia actually explained that I was reinforcing the very behaviour I did not want.

I have been working for a couple of months with Reuben.it's been working wonders and I find it extremely easy to recommend Tricia to any of my dog friends!!

She managed in one session to correct Reuben's issues and we are still having to keep up the work, but he showed almost instant improvement!!!