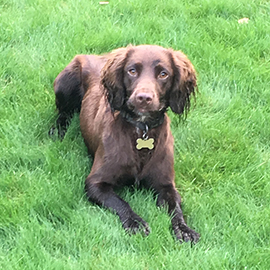 Sue emailed me regarding some problems she was having with her 10 Lotti is a 15 month old Sprocker Spaniel who had a poor recall.
Sarah contacted me reporting that they seldom let Lotti off the lead anymore because her recall seemed none existent.
And if they did, it could often take an absolute age to get her back on the lead.
Myself, Sarah and her family met up one evening in a local park and took a look to this problem. Lotti was certainly giving her owners the run around!!
I always like to try a variety techniques when training. If we try one technique and it doesn't work or suit….. We will try something else.
Hence, our first technique worked for 10 / 15 minutes. But then you could see with Lotti being an extremely smart dog, she had got the measure of us and she was starting to slip back into her old ways.
Time for plan B…..perfect!! Lotti happy …..owners happy.
Hi there Tricia, well…….Thank you!!
Thank you for transforming Lotti!! It's a real pleasure now to walk and play with her off the lead knowing she will come back when called. Such a relief to us a family, can't thank you enough for your knowledge and help.