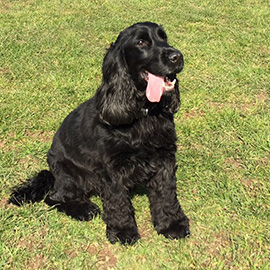 also have a look at: Poppy | Jack & Oscar | Holly
Lincoln was initially a stray Cocker Spaniel, picked up walking the streets in the most appalling condition. Lynn and Geoff had been looking to re home a dog, and Lincoln fitted the bill. But very soon after he had settled into Lynn and Geoffs home he started to challenge other dogs when out on walks….lunging , barking and growling at them.
Lynn got in contact with me and we quickly met up for a session to see what was going on here. Training is always very important in a dogs life, not only do you have a pleasant family dog at the end. But through the training your dog looks upon you differently….more of its leader. And this was something Lincoln clearly had never had.
I'm going to let Lynn tell Lincoln s story ….
Having adopted Lincoln, who was previously a stray, we knew very little of his background. What we did know ( or so we thought ) was that he didn't like other dogs or other four legged creatures for that matter!!

When we met other cats or dogs whilst walking, he would bark at them in quite an aggressive manner. We decided that enough was enough so visited Tricia. On arrival, Tricia took control of Lincoln and within minutes recognised his behavioural issues and explained the reasoning for them.

After just a short training session, which included confrontation with other dogs. Lincoln was a reformed character. Tricia helped us to transform our gorgeous Cocker and as a result, improved our relationship with him. I would like to say a massive ' thank you' to Tricia for her helpful expert assistance, which has been so effective.