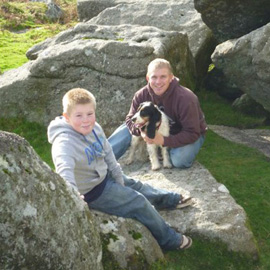 also have a look at: Lincoln | Jack & Oscar | Holly
Martin and Maria contacted me regarding their Cocker Spaniel's (Poppy) excessive barking and whining. Poppy had always had the tendency to display this kind of behaviour but both Martin and Maria had noticed the behaviour was becoming worse as she matured, they were hoping that she might have grown out of it.
On visiting their home I got first hand experience of what they were having to cope with when a visitor entered their home coupled with the shrieking from Poppy if one of her owners tried to leave without her. This behaviour of barking, shrieking and whining had also become apparent out on walks if Martin and Maria wanted to stop and chat with a fellow dog walker or maybe stop at a café to have refreshments. After giving Martin and Maria some advice and a treatment plan of how to mange and correct the un-wanted behaviour of excessive barking and whining this is what they had to say:
Hi Tricia
Just thought I'd write you an email to say thanks for the great advice you have given us. Poppy is like a totally different dog, we have even pushed the limits and done things we have never been able to do with her, like take her to public places with out the unacceptable behaviour and she is learning that when we say No, we mean NO, and she listens straight away! Even after owning many dogs you have shown us a new way of handling and training our spaniel. We are ever so grateful and you truly have saved our dog & owner relationship. If i see another person with any kind of dog training, or behaviour problem i will definitely being passing on your details!