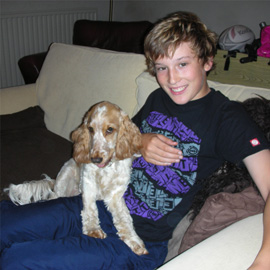 also have a look at: Lincoln | Jack & Oscar | Poppy
Holly is a 18month old Cocker Spaniel and her owner Elaine rang me to chat about Holly's aggressive barking when visitors came into their home. also Holly's general nervousness around people and other dogs. Holly had not biten anyone but Elaine felt sure that if anyone persisted in trying to touch or stroke Holly she certainly looked as if she might. This problem was making Elaine feel quite awful and she was now walking Holly in quiet areas where she could avoid people.
When entering Elaine's home l was confronted with a classic case of fear induced aggression from Holly, excessive nervous barking, wanting to check me out but too afraid too, running forward then darting back and seeking comfort in Elaine.
Within half an hour l had Holly sat on my lap, calm and relaxed….. which Elaine was rather amazed with!! and for the rest of my visit we practiced and discussed the new routine and plan for Holly when visitors come into the house. We also went out for a walk with Holly to monitor her general nervousness in a busy built up area and devised a treatment plan to help Holly cope with her fear of busy areas.
This is what Elaine had to say 3 months later…
Holly was very nervous and frightened to go out. She was unhappy and l realised l needed help and guidance.When Tricia arrived at my house, straight away she filled me with confidence and knew what Holly needed. Even in the first hour of being with Holly, Tricia was brilliant, she showed us the way forward and techniques.Holly is improving day by day and loves to go out now, we have such good fun, all thanks to Tricia.
Tricia is a true professional , caring and sincere person. l would 100% recommend Tricia and l am so glad l got in touch.
Holly has just been to stay with Tricia whilst we were away, l felt at ease leaving her and when l went to pick her up Holly was so calm and happy, it was a thrill to see.
Tricia is always there to help at anytime with any problems.
Looking forward to a much happier and content Cocker Spaniel, who is now enjoying life,which makes me feel wonderful.Thank you Tricia.