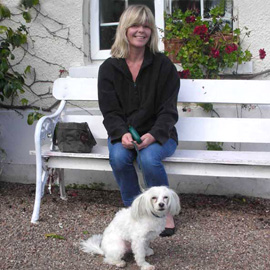 Cindy contacted me on behalf of her father who was struggling to control his 4 year old Chinese Crested dog named Ozzy.
They had owned Ozzy since he was a puppy and although they owned another Chinese Crested who didn't have any problems with other dogs, Ozzy didn't share the same view because whenever they spotted another dog he just went berserk, lunging and barking until it turned into a high pitched squeal to get to them. Cindy had tried sitting Ozzy down in order for the other dog to pass but had got herself nipped on the odd occasion by Ozzy who by the had gone into another zone
As Ozzy was Cindy's fathers dog who didn't have hours and hours to do endless training we decided on a quick but very simple and painless method to get Ozzy to understand that he couldn't go around behaving in such a manner and Cindy sent me a text 2 weeks later to report on the progress. This is what Cindy said:
Ozzy is practically cured! He is 100% better with other dogs now. Been nose to nose with every dog he meets, even old enemies. He seems much happier and calmer and doesn't growl or lunge anymore, My Dad is thrilled and I wish I had contacted you sooner, I could have saved myself and Ozzy a lot of stress. My Dad and I had been trying to cure Ozzy for well over 12 months, it took you 1 hour. Thank you.