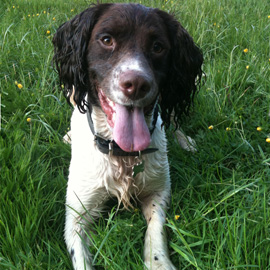 also have a look at: Sam
Kristen rang me one weekend reporting her 4 year old English Springer Spaniel Charlie had bitten her partner Dave on the hand for no apparent reason. Kristen admitted that Charlie had always been a little on the "grumpy side" but they had put that down to the fact that he had a few different homes before they took him on with possibly not the best start in life but he had never bitten them before.
I went along to their home to meet Charlie who seemed very pleased to have me visit but within 10 minutes of being there he started displaying some not so sociable behaviour of grumbling and growling. I showed Kristen and Dave how to stop this behaviour and we had a good chat about Charlie and his past homes, his new home, how Charlie perceives them, how you can stop your dog being aggressive towards you and believe it or not how you can inadvertently be making your dog aggressive!
And this is what Kristen had to report one week later:
Wow! What a lovely, happy dog we have. Training and new ideas are going really well. Wonderful, thank you for all your support.