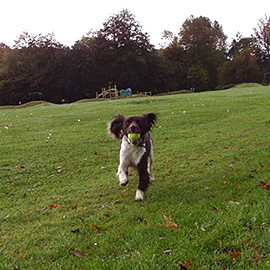 also have a look at: Charlie
This case may not seem very problematic to the average dog owner but to Keith who runs a busy house with four small children it was causing him a great deal of concern.And its often the case that its the small niggly problems that can give us most angst !!
Keith's 2 year old English Springer Spaniel- Sam, was just becoming a nightmare to walk on the lead, he was so strong that even Keith was struggling to hold him. And on top of this Keith had not had the confidence to let him run free off the lead, fearing that Sam who could cover a lot of ground when running free might just run off and not come back!! Plus Sam was very restless in the home, always pacing around and Keith found this very hard to live with.
Having had a lot of experience with English Springer Spaniels l had a bit of a gut feeling with this case and where l would normally insist on a home visit to get a good overall picture of the home routine etc, l thought it would be more beneficial if Keith came over to my house in Exeter where we could find a large but completely enclosed and safe area of land that l could help Keith over come his fear that Sam would run off. And give Keith a better understanding of how the man and dog relationship works. We also changed Sams walking to heal collar which l thought made a huge difference but Keith did have a little homework to be getting on with if he really wanted to change Sam's behaviour.
Two weeks later l gave Keith a follow up call just to check if he had made any progress. And this is what he had to say
Thank you Tricia, you have given me a lot more confidence to let Sam off the lead and through this we now have a much calmer dog to live with. Walking Sam is so much more pleasurable and l would not have thought that by changing his collar that it would have made such a difference. l am very happy with the service you have provided and would not hesitate to use your services again, should any problem arise with Sam. And l would certainly recommend you to any of our friends. Thank you.