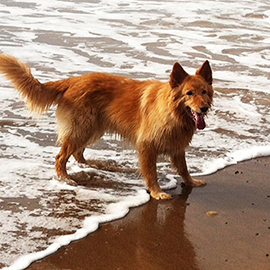 also have a look at: Martha | Cujo
Lucy contacted me regarding her parents' German Shepherd, Cleo. Cleo is a 6 year old German Shepherd bitch and although she's not Lucy's dog, Lucy was presently looking after Cleo while her parents were away, and felt that there had to be another way of walking/ handling Cleo's aggressive behaviour towards other dogs. This aggressive behaviour Cleo displayed to other dogs had been going on as long as Lucy could remember, Cleo was kept away from other dogs and wore a muzzle out on walks. So while Cleo was now in Lucy's care for a couple of weeks, Lucy wanted to see if we could meet up and find an alternative solution to this problem.
Lucy and I met up ,and Cleo reacted very intensively to the first dog she encountered. I explained to Lucy what was going on here and how basically this long embedded behaviour had increased through Cleo s successfulness of being able to do it over the years. Coupled with popping a muzzle on Cleo was in fact 'sticking a plaster on a problem.' We introduced Cleo to many dogs and I would like to think that we made a lot of head way….of course the proof is always in the eating!! Lucy emailed me a couple of months later with an update…
I'm sorry it has taken me so long to email, but I just wanted to say 'Thank you.' I spent 2 weeks applying what you had taught me and we made really good progress. My parents came back from their holiday and I taught them what I had learnt. And what progress Cleo had made. Cleo now goes for walks muzzle free and has been for some time now. My parents and the rest of the family can now enjoy their walks again, I'm so pleased. It has made a big difference to their lives and hopefully Cleo is happier too.
I just wanted to let you know that it was all a great success and I would definitely recommend you. Thanks again – Lucy.