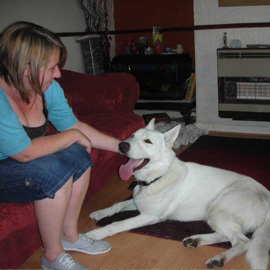 also have a look at: Martha | Cleo
Zoe contacted me regarding her white (male) German Shepherd named Cujo. Zoe had owned German Shepherds before so was quite aware of any little traits that might go with the breed.
When Zoe first brought Cujo home he seemed very nervous which was understandable considering in his previous home he had very little socialization, spending large amounts of time shut up in a caravan. But now Zoe was experiencing a different type of behavior with Cujo, he was becoming more and more aggressive towards everyone and everything and practically making it impossible to even get him out of the house for a walk let alone have any visitors in! In Zoe's own words she said she "dreaded walking him".
I only need to visit Zoe and Cujo the once where we practiced a very successful plan of action in order to leave the house in a calm and controlled manner, we addressed the lunging and barking on the lead and then returned to the house and set down some rules/boundaries and a little homework for Zoe in order for Cujo to allow some visitors into the home. This is what Zoe had to say:
Cujo is brilliant to walk now, I have a lot more control and we go out for 2 hour walks up on Haldon and down by the river, he has made friends with other dogs and is now tolerating visitors in the house. He's been an Angel.