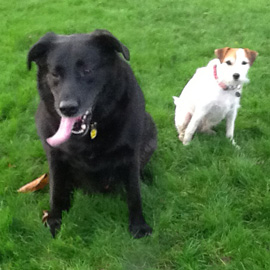 also have a look at: Ruby
Lucie contacted me as she had great concerns about her new dog Toby.
Toby was a Labrador Cross.. 8 years old and seemed a happy go lucky chap, although the day she went to pick Toby up from the rescue centre it became apparent that he did have one little problem…..a serial humper!!!
Lucie didnt let this deter her as it's so hard for rescue centres to rehome older dogs, and anyway they had already bonded. Surely once he settled in to his new home, he would calm down and thing would be fine.
Unfortunately things didn't calm down ,Toby just wanted to hump any dog he could get his paws on and it didn't matter if they were male, female, large, small…you named it..Toby wanted to hump it!!
Luci ran this problem past her veterinary surgeon, trainers at the rescue centre and other people…but everyone said there was nothing that could be done .
Lucie and I met up with my dogs and of course Toby was on form within seconds, so we popped Toby back on a lead because this behaviour had to stop immediately. The more he was allowed to do this behaviour, the more it was going to happen , it was carrying it's own rewards. We then talked through the behaviour and a new plan, making sure Luci had a good understanding on what was going on here.
We then let Toby of the lead and went on our walk. New start and new beginning and Toby was actually very good , taking on our new plan very quickly …..who says you can't teach an old dog a new trick!!
Lucie has since given me an update and we have subsequently met up for another walk…….this is what she has to say.
Thanks again for meeting with me the other week, it was really helpful. Things have been going well with Toby since , although my friends dog is quite dominant, so he didn't really try to hump him!!
Never the less I have been teaching him the new plan, which he has picked up really quickly and incorporated this when meeting other dogs.
I have been letting him meet more dogs and have been firmer with him which is great .
Thanks again…Lucie