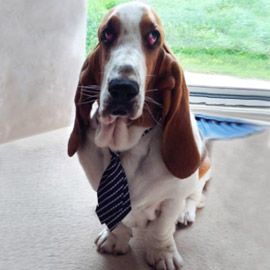 Magdalena and Matt emailed me regarding their 2 year old Basset Hound Dave. To be honest Basset hounds do not feature highly on my work load….reasons being ….they are relatively a uncommon breed of dog in the West Country , so I was rather keen to go along and visit Magdalena and Matt to see what was going on with Dave.
Within seconds of arriving in their home and sitting down on the sofa Dave made himself nice and comfy and sprawled himself across my lap,this did look rather amusing….but there was a hidden message going on here.
Magdalena and Matt then proceeded to tell me exactly what Dave had been up to!!!
Dave had attacked Matt one evening when they had both been sprawled out on the sofa,it seems that Matt had barely moved before Dave had launched himself at Matt , Matt had curled up in a ball putting his arms over his head to protect his face and Dave had bitten him on the side of his chest.
Another time Dave had tried to bite Matts parents while they were trying to put a lead on him and Dave was just generally becoming very difficult to manage in the house and out on walks due to his unpredictable behaviour..
We discussed all the options with Dave because therewas no point me setting a plan up for a owner that they are going to find difficult /impossible to implement. We then practiced the chosen technique and when Magdalena and Matt were happy and had a full understanding on how to manage/ change Dave's behaviour I left them to start this new program with Dave.
I was delighted to receive this email from them recently with an up date on Dave…..
Dave is a changed dog. He's very placid, listens to all our commands bad has not been aggressive since your visit.
I know it might sound weird considering Bassets are stubborn but he literally learnt everything in one day, and he follows all our commands.
We are also more firm with him then we were in the past, so he understands we are in charge.
He is back again to being very playful and friendly towards other dogs, so we can let him off the lead again.

Thank you ever so much for all your help and tips and feel free to use this as a case study because we have spoken to a few Basset owners and they struggle as we did and unfortunately loads of them give up on Bassets and try and rehome them, rather than investing in them.

We are really glad that we invested time and money in Dave as he is an amazing part of the family. Thank you.