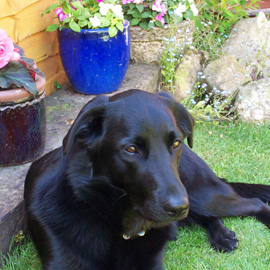 also have a look at: Cujo | Cleo
Martha is a 2 year old GSD X Labrador and her owner Sunya likes her dogs to be very much part of her family and everyday life, a dog that you can take along anywhere and it is not going to cause a disruption.
I first met Sunya when Martha was only a 6 month old puppy and she was already showing signs of classic territorialness in the home and car by barking at passing people and horses coupled with asserting herself over various dogs in the village where they live.
Basically Martha is a very nice friendly dog but her owner did not like her behaving in this manner as it portrayed Martha as being something she was not.
Over the last 18 months we have been slowly working on Martha to train her into a well – balanced dog that does not chase horses or cats, does not over- guard the house/ garden, does not chase sheep, does not bark at passing objects when in the car, walks nicely on a lead and is just generally a well- balanced pleasant dog to take to the pub of an evening for a drink.
Sunya has very kindly agreed to give us a testimonial on Martha and how she finds living and managing her as a dog on a day to day basis now…
I got Martha 6 months after losing my previous dog, a dearly loved Dalmatian. I wanted a different breed and chose Martha because I had grown up with German Shepherds and was very familiar with Labradors. Martha was quite assertive as a small puppy but I mistook this as normal puppy behaviour. By the time I met Tricia her pattern of behaviour had already been established. She was very naughty on the lead and not good with horses, other animals or the neighbours – always wanting to 'see them off'. Tricia soon identified the problem – I was too soft with her and as a result, Martha did not respect me as Pack Leader. Following a lot of hard work and uncharacteristic assertiveness on my part and by adopting a 'zero tolerance' approach to this behaviour, Martha has greatly improved. She no longer barks in cars, she ignores horses and most other animals and she is very good on the lead. She still barks at the neighbours, but responds to 'leave it'. I take her everywhere with me. She is always well behaved and has lots of new friends. So much so, that she is often greeted before me!

Tricia has been brilliant – always there to hear progress reports and offer advice. She also looks after Martha for me 2 days a week so her training has been reinforced even when I'm at work. I can't recommend her highly enough!