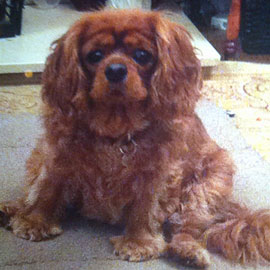 also have a look at Rufus
Ruby is a 3 year old Cavalier King Charles Spaniel and her owner David contacted me with a complex problem.
Ruby had always slept downstairs in her crate quite happily until one night the ironing board had fallen on her crate by mistake and frightened her and now understandably Ruby was not happy at bedtime fearing the same thing was going to happen to her again.
After once owning a fairly chilled dog who was happy to go off to her bed at end of the day, David now owned a little dog who was unsettled at the end of the day and when it came to bedtime Ruby did not want to be left on her own downstairs ,resulting in Ruby barking until someone joined her.
Things came to a head and David contacted me after his wife Jane had to sleep downstairs to keep Ruby company one night as they were getting very concerned that her night time barking was disturbing their neighbours next door.
Having had lots of experience of working with many breeds of dogs l could empathise with how sensitive this little breed of dog could be, but on the other hand this situation had to change fairly quickly because the longer this new routine continued the harder it was going to be to change.
I devised a new night time plan for Ruby, which David followed step by step and this was his email response to the success of it!!
Tricia gave us excellent advice on how to handle Ruby's night time barking and it worked, literally, overnight. Ruby is now a much happier dog sleeping out of her crate. I was extremely impressed with Tricia's advice; she took time to listen to our problem and was very supportive. I would not hesitate to use her services again.