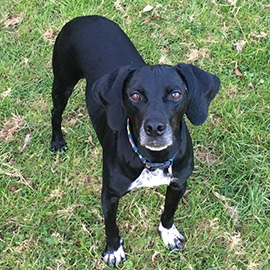 also have a look at (another) Bertie
Bertie is in fact a little Cypriot Rescue dog!! But I've put him under the Beagle category because this little cross breed of dog are very common out in Cyprus….bred in their hundreds to hunt for their owners as a sport. Only to find themselves discarded / thrown out at the end of the season or abandoned up in the mountains and left to fend for themselves. A lot don't even make it, hundreds end up in rescue centres …..if they are lucky. And the very fortunate ones…..as Bertie was. Get re homed into a loving, caring home.
Because of this popular breed combination the Cyprus-us people seem to favour….
Beagle x Pointer x Dachshund, coupled with no actual formal training as such. It can mean you inherit a very keen hunter who has it's own agenda going on……in other words ….has no desire to stay with you on a walk!!!
And this was very much the case when I met up with Mary and Bertie. But Mary was absolutely determined to get this very poor recall sorted and took on board everything I suggested and showed her.
To my delight,I received this update from her recently and I'm very happy for them all.
We adopted a stray Pointer cross from Cyprus who unfortunately had a serious medical condition. The long course of treatment meant that it was difficult to start training him and his recall was almost non existent. We tried 2 dog behaviour specialist who didn't really do much help. Then Tricia was recommended to us – we had seen the transformation of a friends dog following her input. I took Bertie to see her once and she was calm, thorough and gave great practical advice and we are now able to let him off the lead and his recall is almost perfect, just by following the guidance Tricia gave us. This makes walking him a joy for all of us and it's great to see him so happy.

We can't thank Tricia enough.