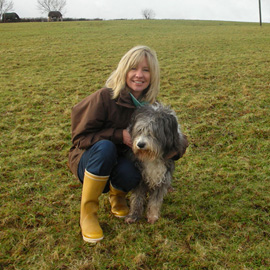 also have a look at Rory
99% of the time Meg is a friendly laid back bearded Collie cross, no trouble to her owner Lynn at all. But if someone walked past Meg's garden gate or even better still (as far as Meg was concerned) forgot to close the garden gate, Meg became territorially aggressive and if she couldn't bite the dog, she'd bit the owner! Things came to a head when dog wardens were involved and this is where Lynn asked me to advise her on the problem. Did she have an out of control dog? Would she have to give her up? I spent time with Lynn explaining why Meg had this character change, what provoked it and how to mange it and change the behaviour. To date that was the last ugly scene Meg has had with a dog and sometimes it is just a matter of someone helping you to understand your dogs behaviour because a lot of the time you can be inadvertently encouraging the very behaviour you do not want!
Lynn says:
The advice Tricia gave me was very useful and I now have a better understanding of how to manage Meg. She is much improved.