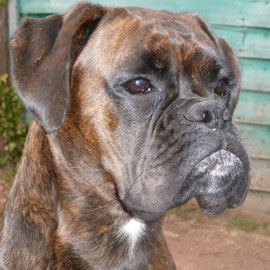 also have a look at (another) Lilly
Janet emailed me regarding her 18 month old Boxer called Lilly who was becoming more and more aggressive towards other dogs when Janet went out walking her.
Janet owned Lilly's mother and she was fine with other dogs, so Janet was struggling to understand why Lilly should be behaving in this manner.
Also Lilly was behaving aggressively towards the next door neighbours when out in the garden, she would run up and down the garden fence jumping and barking at them.
I met up with Janet and we introduced her to a variety of dogs and Lilly very quickly showed us her rather anti social behaviour of lunging at another dog.
We tried a few technique , but very quickly settled on one which we then practiced to make sure Janet had a good understanding on how to correct Lilly's unwanted behaviour.
Janet emailed me with this update
Hi Tricia…just to update you on Lilly, your training and advice have worked wonders, Lilly is like a new dog, more relaxed and happier.
At the weekend we all went to Killerton for a walk, we met a great variety of dogs and Lilly responded to her new training perfectly. And she no longer jumps up at the fence and barks at the children next door.
I cannot thank you enough.
From a very happy and relaxed Boxer owner!!.