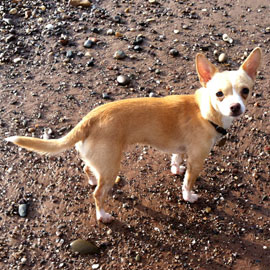 also have a look at Hugo, Tilly and Dot
Alex is a 18 month old Chihuahua x Jack Russell and his owner Jenna contacted me regarding his behaviour of excessively barking at every thing and every one, the behaviour was driving Jenna mad as well as deeply upsetting her because through all this barking people were thinking he was just a horrible little snappy dog and he was actually just the cutest little dog ever, but no one apart from Jenna could get that close to him to see this side of him. And to make matters worse he didn't like anyone getting too close to Jenna.
I met up with Jenna and Alex and it was only a matter of seconds before Alex gave us the range of his ear splitting barking, we discussed our options to put a stop to this unpleasant and unwanted barking and settled on a very reliable technique of mine. We then practiced this technique until Jenna felt she was confident to go away and continue the plan on her own.
Jenna updated me with an email recently and this is what she had to say:
Alex has been brilliant since our training, the words you have taught me are now good enough on their own!!!
Our training has been so helpful and he is a much calmer dog now.