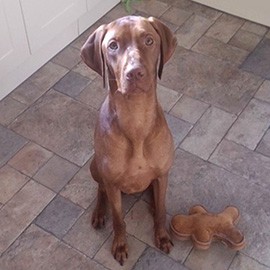 On the whole Hungarian Visla's are a fairly 'trouble free' breed and really don't have many behavioural traits. But like anything….. You can always have an exception to a rule !!
When I paid Helen a home visit, to help her with the behaviour she had been experiencing with her 20 month old Hungarian Visla… Kendall. Helen was at an all time low with him. Kendall was a big powerful chap who was starting to throw his weight around. He was incredibly strong on the lead and also starting to go after joggers and cyclist on their walks.
He didn't like going on the same walk twice and would jump up and nip you, and because of this Helen was left with no choice but to revert to putting a muzzle on him…..which was not ideal!!
Kendall was also starting to get territorial in the home when visitors arrived and because of this, they were having to put him in another room, just to get their visitor into the house .
This was quite a resume for a 20 month old dog. But we worked our way through.
Starting with the lead walking first……never under estimate the power of a walk. And once we got Kendall in the correct collar and the correct position….bingo!! We were away.
We then took a look at his chasing joggers/ cyclists habit. Not a good habit to ignore. Yet again….. Kendall was so receptive to what we had to teach him.
Finally back home and time to focus on Kendall's reluctance to let visitors into his home. Teaching him a totally new command, we practiced this plan until Helen was happy with the way things were looking.
It's always so rewarding when you receive an update from owners a few weeks later and this is what Helen had to say….
It's going amazingly!!!
Kendall is brilliant on the lead now and not bothered when cyclist or joggers go by. He's been off the lead in the park and up on the common. And the getting in the car situation is getting much better.
I can't thank you enough for this.
Helen.