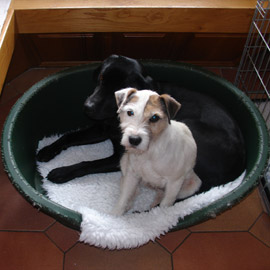 also have a look at: Doozer and Dizzy
Michele contacted me with a rather unusual and complex problem regarding her Parsons Jack Russell – Milly and her Black Labrador Teal who had been living together perfectly happily for 3 months until recently for no apparent reason Milly had attacked Teal quite ferociously. As Milly the Jack Russell was expecting puppies at the time of the incident Michele put it down to the hormonal change and set Milly up in her own room to have her pups, deciding to bring the dogs back together again once the pups had been born and Milly was feeling more like her old self again.
Except now the pups were a week old and Michele wanted to start looking forward to the future and to have her dogs all under one roof as the pups already had homes awaiting. Michele tried to introduce Milly and Teal again to each other but Milly basically wanted Teal out of the house and she wasn't messing around.
At this point I visited Michele's home where I met Teal in the kitchen and Milly set up in her maternity wing. We then began on quite a lengthy discussion about the dogs, previous dogs, their routine and characters, likes and dislikes. Then we approached the bit Michele was dreading, bringing the dogs back together again!
All went fairly well although you could plainly see that Milly wasn't 100% happy but she accepted and I went through a treatment plan with Michele that she had to follow.
We spoke many times through the following months just to make sure that Milly wasn't slipping back into her aggressive behaviour and this is what Michele had to say in our last phone call:
Our dogs are all back happily together, we are very very grateful. Had we not called you in we would have ended up keeping them separate for the rest of their lives. You pointed us back in the right direction, Thank you