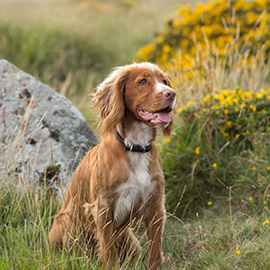 also have a look at: Tiggy
Hannah contacted regarding the behaviour her 18 month old Working Cocker Spaniel named Tui. Tui was running up to certain people on walks and barking at them in rather an assertive manner. And on one occasion had actually pulled at the persons clothing!!
Coupled with barking at visitors coming into their home , Hannah was finding this behaviour all a bit worrying and unpredictable !! So we met up .
We had a very successful meeting and put a lot of new boundaries in place, as well as teaching Tui some new commands!! Which Tui was very happy to take on board. Hannah and Ben didn't leave until they felt happy with everything I showed them and suggested. And it was lovely to receive this email from them recently with an update….
Hi Tricia….I just wanted to let you know how we were getting on with Tui since our session with you.
We noticed an immediate huge change in her behaviour around the house. The uncontrolled barking in the house completely stopped. When someone knocked at the door the technique you showed us immediately stopped the barking and we have been able to open the door to delivery men without shutting her away, instead she sits nice and quietly!!
Outside the house she is much much better. She seems to understand that the barking isn't acceptable , and in situations where she might have barked in the past, the technique you taught us is enough to remind her not to bark. We have also noticed that she is giving us more eye contact and in situations where she may have in the past barked, she is instead running back to us and looking for instruction.

We are so pleased with her!! It was becoming quite a worry and it is so lovely to see how much her behaviour has improved and so easily!!
Thank you so much for you advice, it has been invaluable.