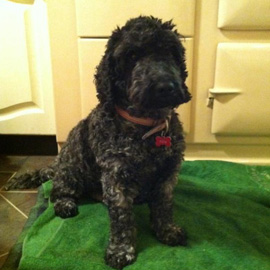 also have a look at Daisy
Claire and her husband had not owned a dog together as a family before and after dong some research decided a Cockapoo would be the ideal family dog.
Alfie joined the family as a puppy but by the age of 15 months Claire was contacting me with some unwanted behaviour that Alfie was displaying.
Firstly Alfie wasn't keen on being excluded from the family and if he was left in another room would bark incessantly, coupled with this his barking he would often start up at 5am in the morning!
Secondly Alfie was a real thief in the kitchen when food was about and it didn't matter how far you pushed it to the back of the work counter… He got it!
I went along to Claire's home where I took a look at their set up and devised what I thought was a good practical plan of action. This is what Claire had to say about my service…
Just wanted to thank you for your expert assistance in sorting out several behavioural issues we had with our Cockerpoo, Alfie. The service you provided and the backup you have offered have been very helpful and effective. Our house is now much calmer and quieter! Thank you.