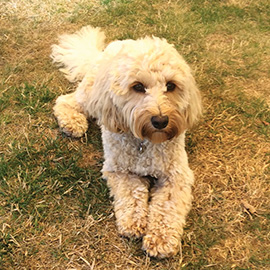 also have a look at Alfie
Daisy is a 18 month old Cockerpoo and her owners Sue and Geoff contacted me with a couple of problems they were experiencing with Daisy.
1. Very poor recall. In fact they couldn't let her off the lead at all, she would just disappear into the horizon!! And had resorted to only exercising her on a long line.
2. Daisy had developed the " seeing off " vehicle chasing habit……which can be a very dangerous habit.
We all met up in a mutually agreeable location and firstly took a look at Daisys recall. And as Sue had rightly said, it was pretty well non exsistent!!
We tried a variety of training techniques , but settled with one that seemed to suit everyone. It was then time to start addressing Daisy's vehicle chasing habit. So we changed locations and went lead walking in a different enviroment. I have a lot of experience in this type of behaviour, so l was able to explain and show Sue and Geoff very quickly how to address it.
As with all training…" the proof is in the eating", so once Sue and Geoff were happy with everything i had taught them and advised, we said our goodbyes.
I always ask clients to keep in touch and encourage frequent updates. So it was lovely to receive this update from Sue and Geoff only a week after our meeting!!
It's been a few days since we saw you last Thursday so thought you may like an update. We started the revised training plan the very next day, Friday. We took Daisy down to our local playing /dog field which is certainly only semi-secure as it is has the River Otter to one side and a gateway on the other. Daisy has never been off lead here before but is familiar with the spot.

So, we set up everything as you suggested (collar and lightweight short lead), asked her to wait for a few moments until she was calm and sitting and gently dropped the lead and said "off you go". She ran off happily but not the crazy nose-down running as before, she frequently looked back to check in and we called her back and rewarded. Again we said "off you go" and away she went. We spent about 45mins in the field and it was a really happy experience for all of us. We have been repeating this every day now and into 2 different local semi secure fields. Daisy ignored dogs which have come into the field and immediately returned when called in all instances, short or long distance. Looks like potentially Daisy could be one of those dogs who pootles about happily but knows to keep checking in with us. We will keep on as we are for a while yet just to make sure and try different locations as you suggested.

With regard to jumping at traffic this has also improved. We have done away with the harness and using normal collars and lead. In fact yesterday we had a scenario on our local junction of tractor/trailer, motorbike and lorry with skip. Last week she would have gone into meltdown but she Just looked at me and we carried on our way. It really felt like she was looking at me as pack leader for guidance and security!!

Tricia we can't believe what a difference in just a few days, it's been a fantastic experience, not just for Daisy but more importantly for us. Certainly my confidence has returned, we feel good as "pack leaders" and Daisy really does seem to be responding to all of it. We are carrying on with all your guidance and using the commands in a variety of situations.

There was an incident with a sausage roll which a friend held just in front of her nose but that was his fault not hers LOL!!!

Thanks for everything to date, will update you again and be in touch when we need to move up to the next stage.